Collaboration
iBreast Exam
Partnerships
We are collaborating with a team from Harvard Medical School, Botswana–Harvard AIDS Institute Partnership, Siemens Healthineers, the University of Botswana and Massachusetts General Hospital to test whether HIV status is associated with an increased risk of cardiac toxicity from chemotherapy.
We are measuring cardiac function with cardiac MRI and calculating the left ventricular ejection fraction (LVEF) among patients getting chemotherapy.The study will enroll 50 patients and perform a cardiac MRI here at Village Imaging. We are also measuring myocardial fibrosis, global longitudinal strain and vascular function with MRI.
Organizations
Organizations in collaboration.
Harvard Medical School
Botswana–Harvard AIDS Institute Partnership
Siemens Healthineers
The University of Botswana and Massachusetts General Hospital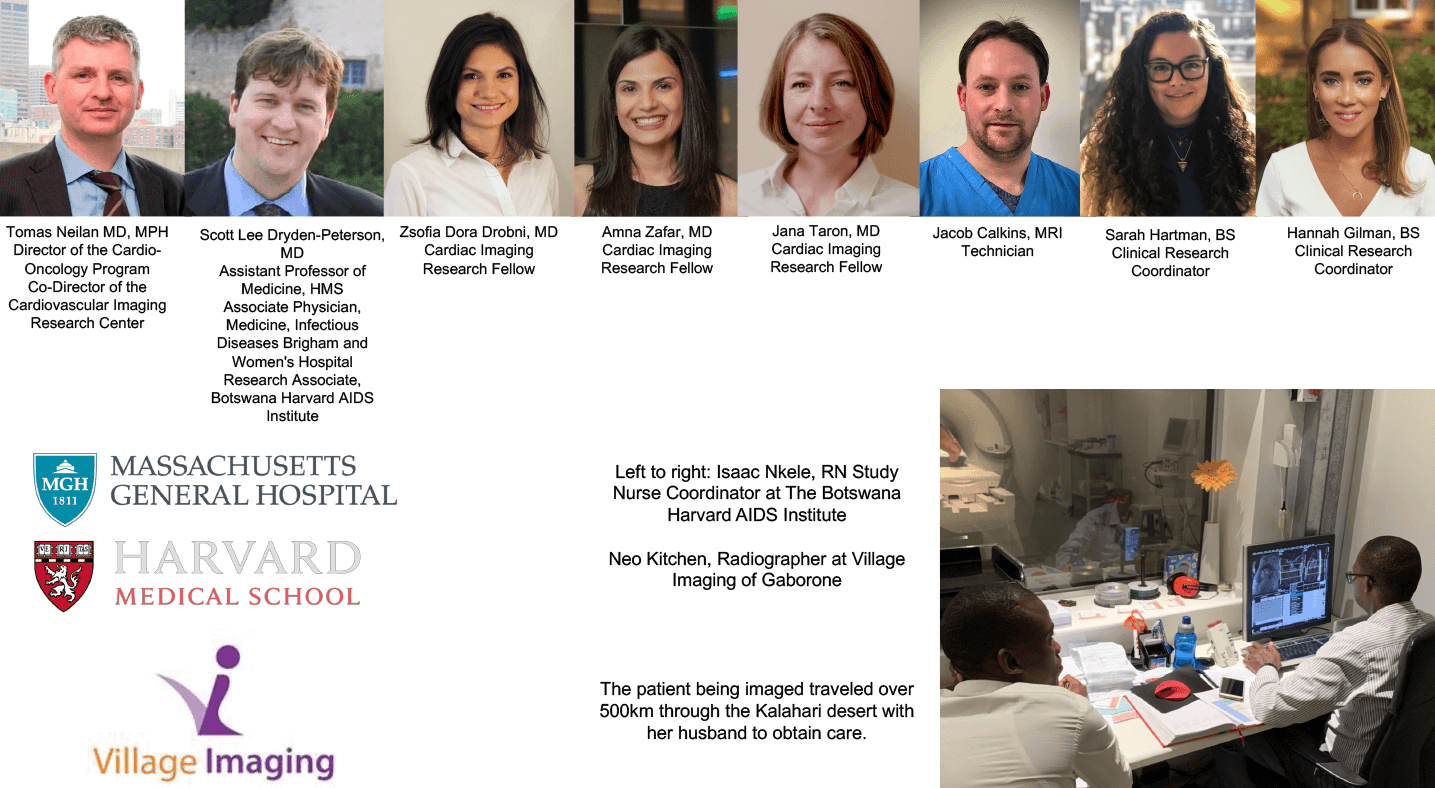 Partnership
Since 2017, Village Imaging have introduced iBreast Exam to Batswana. This innovative technology was introduced to us by UE LifeSciences, Philadelphia, USA. Village Imaging are now representatives for Africa and work in close collaboration with the global team in trying to bring cost effective health care techno-solutions to this continent.
To date, using iBreast Exam we have conducted over 800 ibreast examinations on women from all walks of life.
From the above number of women screened, 22 women were detected with a suspicious lump in their breast. A lump they did not know they had. This amounts to 2.5% of the population screened. It doesn't sound like much in number terms, but imagine this was you, your mum/sister/wife/daughter. Breast Cancer is REAL and happening. iBreast Exam and Village Imaging are here to walk with you on prevention rather than cure.
Prevention is easy, pain-free and cost effective.
Cure is tough, painful and expensive both monetarily and emotionally.
Help a loved one today. Book your iBreast Examination.
Organizations
DTCB
Debswana
BancABC
Gambling Authority
Annual Cancer Association Stiletto Walk
Curves Gym